May 05, 2005
Return to Thunder Butte
Years ago, we drove to Thunder Butte from California. I was just thirteen. We piled almost the entire family—6 kids, Mom, Dad, and Grandma—into a 4-wheel drive Ford pick-up and camper, and pulling a trailer behind us. It was my first cross-country trip. Until then, I hadn't left the state of California before. And, Grandma hadn't seen Thunder Butte since she left--about 1940 or 1941.
Early in the trip, as we crossed Nevada, I marveled at the vast, rugged expanses and deserts filled with scrub brush and an occasional cactus. I remember telling Grandma how beautiful I thought the desert was. Grandma was in her late seventies, had seen a lot, and wasn't impressed. She had lived much of her life in empty lands—especially the country in and around Thunder Butte. She said, "You don't know what you're talking about." Everyone fell into an uncomfortable silence after that. Maybe I didn't know what I was talking about, but I have been fascinated with big, empty places ever since.
We stayed in a variety of campgrounds along the way, always pitching a tent alongside the trailer. In Ellis, Kansas, we camped in a little city park along Big Creek. That night was the first time, too, that I had ever seen fireflies. When we left the next morning, we drove off leaving my seven year old brother, Sean, in the rest room. We got about an half hour down the interstate before anyone realized that we had left him behind. I'll never forget the look on his face when we returned a half hour later and found him sitting next to the rest room, tears streaming down his face. He thought that we had left him and were never coming back. Everybody felt bad for him.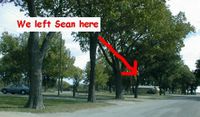 Ellis Lakeside Campground
(Click for a Larger View)
We drove to Missouri to see my Uncle John, where he was raising three little boys all on his own, and spent a night in Hannibal, Missouri. The air was so thick with humidity that you couldn't stay dry. In fact, we all felt drenched trying to slumber in our sleeping bags that night. We traveled up into Illinois to see my Aunt Kathy and her family, and then on into Wisconsin to see still more cousins. Then, we doubled back, heading west into the Dakotas. I'll never forget how flat and empty the land felt. We stopped to visit my Uncle Neal in Faith, South Dakota, as we traveled on towards Thunder Butte. Neal used to be the Police Chief in Faith. We spent a couple of days visiting Neal and his wife Chubby.
After a day or so in Faith, we drove up to Thunder Butte. We left the trailer in Faith and headed up the highway towards the butte. Of course, then—as now—the roads to the butte are not all paved. We turned off the paved road at some point within site of the butte and onto an old ranch road. Even with the 4-wheel drive engaged, I think my Dad worried a great deal about whether we would bottom out in the ruts, or tip the truck and camper over. The truck really lurched over the road. We were all thrown about in the camper. And, we just barely crawled along at a snail's pace on that rough track.
Finally, the butte loomed in our view as we drove up on top of a little rise. It seemed huge. Dad stopped the truck, and all of us kids spilled out of the back of the camper. Dad pointed in the distance to where he thought the old homestead was, but didn't want to risk driving any further. My Mom set about making lunch, while Grandma refused to get out of the camper. My dad tried reasoning with her, and I could hear her raising her voice, "You're not going to leave me here! You brought me all the way out here just to leave me, didn't you!" My grandmother was in the throes of some kind of panic attack caused by the site of the old butte. Despite all of my Dad's entreaties, Grandma wouldn't get out of the camper to take a look at the place she had lived almost thirty years—from 1913 to just after the start of World War II. That was when I knew that life must have been pretty rough for her, living out by the butte. She never had talked about it much. She never wanted to return to the butte. She never wanted to go back.
I walked aimlessly away from the camper to think about Grandma's troubles, as well as to take in the view of the countryside around me. Not far away, I spotted something sticking out of the dirt through the sparse prairie grass. I thought it was a rock and kicked at it. Then, I reached down and pulled at it. It was an old strip of leather. I kept pulling, and within moments had pulled an old cowboy spur out of the ground.
As I rejoined the family to show off my find, we were all attacked by a swarm of flying ants, and had to climb back into the camper to escape. My Grandma was still going on about how we were trying to leave her "out in this god-forsaken country"—a place that she thought, somehow, God had forgotten. That's the way she thought about it. And, the attack of the flying ants only proved it. She hadn't been meant to come back. We didn't stay long. Dad started up the truck and we slowly made our way back to the paved highway, the butte receding into the distance.
I've kept that spur and have never forgotten Thunder Butte. In my mind, sometimes I climb to the top of Thunder Butte and take in the empty land all around me. Mostly, all you hear is silence. People had rough lives out here. Most of those who came before me are gone. But the butte lives on. So do we.
When the Lakota were corralled onto reservations in the 1800's, they did not easily comprehend the notion of land ownership that is so fixed in our society. To them, men belonged to the land, and the land was part of who you were. In a way, that is how I feel about Thunder Butte. The butte was a part of my family, and it's still part of who I am.
Mike Crowley Thursday, May 05, 2005
2 Comments:
Mike...I found your web page as I was searching for info on the area as I'm writing a story of a cattle drive that took place in the spring of 1940. The drive was done by my father (age 19), his Father as well as his Dads older Brother and other male family members. They drove 400 head or so up to Minot from the Pass Creek area of Pine Ridge. This is one of the many stories I grew up listening too. My family is from the Pine Ridge Indian reservation south of Thunder Butte. I still have family there, mostly 1st & 2nd cousins. I am in my early 50's now and Pops passed away in 1994 and Mom is in her early 80's. We too moved away from South Dakotas in the mid 1960's but always returned for a summer visit. I have found your stories/reflections on the area quite enjoyable. As we too believe in the 'paranormal"(as it is called) I really liked your "gray ghost lady" on the ranch story. One of my other stories is centered around "ghost stories" of Pine Ridge and the surrounding area.Again these are stories that we kids grew listening too as the family would gather around at night and visit...always leading to one ghost story or another. My Dads family became ranchers when the reservation land allottment program began...thus leading him to being a ranch hand at an early age. He too went off to WWII (European theatre) and after that experience was a changed person. But where ever we lived his and Moms memories where always of their home. I live in Albuquerque N.M now and refer to myself as a "grandchild of the west" and have been back up there on many occasions... just to stand and smell the fresh air and feel the many spirits of the lives that came before me. Thank you for this opportunity to read your thoughts on being a "grandchild" of South Dakota that our elders knew so well. Peace Louis
Louis, I appreciate hearing from you. My dad and uncles used to tell lots of ghost stories, too, from their days of growing up around Thunder Butte. The ones I've told here are my dad's. Unfortunately, my uncles have all passed away.

I was out to Pine Ridge and Rosebud reservations about a year ago on business. Although so many people live in poverty in these places, I think it is a beautiful country--and one to be proud of. At Rosebud, I was supposed to meet with some members of the tribal council. Unbeknownst to me, there was a meeting of the full council scheduled and all of the proceedings were being broadcast on KILI FM, the tribal station that covers Pine Ridge, Rosebud, and Cheyenne reservations. I was surprised and a bit unprepared when I was asked to address the tribal council. Rather than simply stammer, I told the council members how beautiful I found their country. And, I meant every word.